SERVINGS

5

PREP TIME

20 min

COOK TIME

15-20 min
--- Ingredients ---
Flaxseed Gel

3 tablespoons (31g) freshly ground golden flaxseeds
9 tablespoons (135ml) warm water
Spring Onion & Leek Mixture

2 cups leeks (100g), soft green part only, finely sliced
1 cup (50g) spring onions, soft green part only, finely sliced
2 tablespoons (30g) extra virgin olive oil
Vegan Chickpea Burger Mixture
Spring onion and leek mixture
Flaxseed gel
1 cup (200g) grated carrot
½ cup (70g) grated zucchini, squeeze excess moisture and then weigh
1 cup (170g) canned chickpeas in carton packaging, mashed
¼ cup (25g) fresh parsley, chopped
½ cup (50g) sunflower seeds, toasted
1 tablespoon (15g) tamari
1 teaspoon (5g) cumin
1 teaspoon (5g) oregano
1 teaspoon (5g) salt
1 tablespoon (15g) extra virgin olive oil
1 cup quinoa flakes or ground gluten-free rolled oats (if tolerated)*
*For a grain-free version of this recipe, use quinoa flakes instead of the ground gluten-free rolled oats.
--- Instructions ---
Step 1
Mix together all the flax seed gel ingredients until a gel is formed.
Step 2
Heat a sauté pan over medium heat and add the oil.
Sauté the leeks and spring onions for a few minutes until fragrant.
Allow the mixture to cool.
Step 3
Preheat the oven to 190oC (375oF).
Drain and rinse the chickpeas and pat them dry with a paper towel.
Mix all the ingredients (except the quinoa or oat flakes) together in a large mixing bowl, adjusting the seasoning if needed.
Fold in the quinoa or oat flakes. The mixture should be sticky but somewhat pliable.
Add more quinoa flakes if the mixture is too wet, adding one tablespoon at a time.
Divide the mixture into 5 portions and shape each into a patty.
Line a pan with parchment paper.
Cook the patties in the oven for 12 to 15 minutes until firm and cooked through.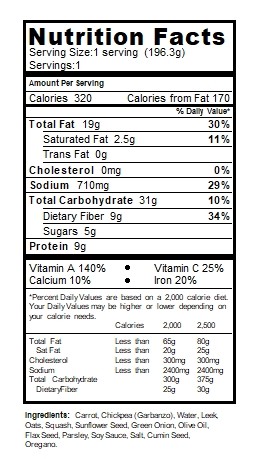 [The recipes are property of the Digestive Nutrition Clinic and have been overseen by our Registered Clinical Dietitian Nutritionist and FODMAP expert.]