SERVINGS

5 (250g each)

PREP TIME

10 min

COOK TIME

10 min
--- Ingredients ---
Pesto
1 cup (25g) arugula leaves
1½ cups (36g) firmly packed fresh basil leaves
⅓ cup (42g) walnuts, roasted
1 teaspoon (5ml) finely grated lemon rind
1 tablespoon (15ml) lemon juice
⅓ cup (33g) finely grated parmesan
¼ cup (80ml) extra virgin olive oil
Pasta
300g (13.7 oz) quinoa pasta or gluten free pasta *
½ tablespoon (9g) salt
4 cups (284g) broccoli heads only
½ cup (50g) parmesan cheese
½ cup (60g) walnuts, roasted, chopped coarsely
* for a grain free option choose quinoa pasta
--- Instructions ---
Step 1 - Roasting the nuts
Heat a small, non-stick frying pan over medium heat.
Add the nuts.
Roast, stirring for 3-4 minutes or until golden.
Step 2 - Making the pesto
Pulse the arugula, basil, nuts, lemon rind, cheese and 1 tablespoon of the olive oil in a food processor until chopped.
Add the remaining olive oil and mix.
Season the pesto with salt and pepper.
Step 3 - Assembling the pasta
Cook the pasta according to packaging directions. (Cook pasta in 10 cups water and ½ tablespoon salt)
Add the broccoli in the last 2 minutes of cooking.
Drain well.
Mix the pasta with the pesto sauce and serve topped with parmesan cheese and nuts.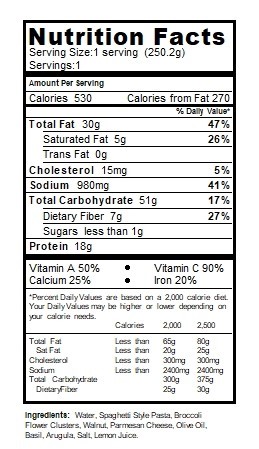 High in Vitamin A, C, K, Iron, Calcium, Phosphorous, Copper, Manganese, Thiamin.
The recipes are property of the Digestive Nutrition Clinic and have been overseen by our Registered Clinical Dietitian Nutritionist and FODMAP expert.