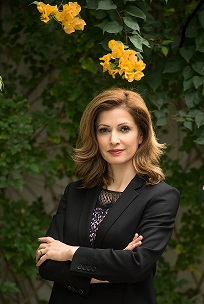 Aliki Economides, MS, RDN is a Biologist and Registered Clinical Dietitian Nutritionist (Academy of Nutrition and Dietetics, USA). Aliki holds a Bachelor of Science in Biology from the University of Athens, Greece and she completed the Didactic Program in Dietetics and a Master's of Science degree in Nutrition and Health Promotion (with distinction) from Simmons College in Boston, USA. She did her postgraduate clinical training/internship and worked at Harvard teaching hospitals in Boston.
She is a certified FODMAP and Digestive Nutrition expert. She has her own practice with more than 15 years of clinical experience in Cyprus. The focus of her practice is digestive health, including irritable bowel syndrome, gluten-related disorders and inflammatory bowel disease. She has lectured extensively in Cyprus, both in the local TV media and in the community. Aliki received awards and commendations for her novel work in healthy food restaurant developing and programs in weight loss and healthy lifestyle. Aliki is passionate in developing healthy recipes involving whole, real, unprocessed, mostly plant-based food. She dedicates her time to teaching the secrets of healthy digestive nutrition to nourish the body and the soul with GI-friendly, delicious meals.
Dr. Irini Hadjisavva, PhD is a molecular and cellular biologist with a passion for digestive health, nutrition and leading a healthy lifestyle. More importantly, she is keen to share her experience managing her own problems with irritable bowel syndrome (IBS) and help others tame their digestive discomforts.
Irini obtained a B.Sc. in Biochemistry from the University of Virginia and a Ph.D. in Molecular & Cellular Oncology from George Washington University in the United States. She has worked and collaborated with prominent scientists in the field of biology and has researched, published and presented work on thyroid disease and pathways of resistance to chemical treatments for various cancers including that of the colon. In addition, she was involved in the establishment and development of clinical trials related to inherited blood disorders. Furthermore, Irini spent more than ten years in academia, teaching both high school and university students, an experience that allowed her to hone her communication skills, connect with today's youth and develop a thorough understanding of their nutritional and lifestyle habits.
Via the establishment of the Digestive Nutrition Clinic in Cyprus, Irini is eager to promote awareness on digestive health with a particular focus on gastrointestinal disorders such as irritable bowel syndrome (IBS), celiac disease and other gluten-related sensitivities, and promote ways to overcome digestive problems by paying close attention to specific body needs.
Irini enjoys being active outdoors with her five-year old daughter and practices both yoga and pilates with the hope of maxing out on gastrointestinal happiness.