SERVES

6 (SERVING SIZE: 421 grams, 14,9 oz)

PREPARATION

20 MINUTES

COOKING

40 MINUTES
--- INGREDIENTS ---
Curry mix
3 tablespoons (14,5 grams) coriander powder
2 tablespoons (12 grams) cumin powder
The seeds only from ½ teaspoon (1 gram) cardamom
1 teaspoon (2 grams) cloves powder
½ teaspoon (1 gram) cinnamon powder
½ teaspoon (1 gram) freshly ground black pepper
1 teaspoon (1,8 grams) cayenne powder
2 tablespoons (2,2 grams) turmeric powder
1 teaspoon (2 grams)dry mustard powder
½ teaspoon (1 gram) ginger powder
Chicken curry
1kg/ 2,2 pounds chicken breast cut in small pieces (about 2,5cm/1 inch long and 1 cm/ 0,4 inch thick)
2 cups (224grams) green beans cut in about 2cm/ 0,8 inch long pieces
2 medium (90 grams)size green chilis, deseeded and chopped in small pieces
4 tablespoons (24grams) finely chopped fresh ginger
5 spring onions, green parts only, chopped in 1cm/ 0,4 inch long pieces
6 small carrots (300grams) cut in half lengthwise and then chopped in 2cm/ 0,8 inch thick pieces
3 tomatoes (350g) cut in small cubes
2 tablespoons (30 ml) sesame oil
3 tablespoons( 45ml) extra virgin olive oil
15 curry leaves
400ml (13,5 fluid ounces) light coconut milk (long life from a can)
All of the low FODMAP curry mix from above
--- INSTRUCTIONS ---
Step 1
Curry mix
Mix all the ingredients for the curry
Step 2
Chicken curry
Heat a non-stick pan well and brown the chicken on all sides. Set aside chicken and its juices in a bowl.
Sauté fresh ginger, green parts of spring onions and chilis in the same non-stick pan in 2 tablespoons extra virgin olive oil and 2 tablespoons sesame seed oil for a few minutes at high heat.
Add the beans and stir for 2-3 minutes.
Add the tomatoes and carrots and reduce heat to medium. Cover the pot and cook until all the juices are absorbed, stirring occasionally. This will take 5-10 minutes.
Cook 1 tablespoon olive oil and the low fodmap curry mix over medium heat, in another large non-stick pan, stirring for 2-3 minutes until the spices turn brown.
Add the vegetables, the chicken with its juices, the curry leaves and the coconut milk to the pan. Let it all simmer until the chicken is cooked through (about 15 minutes). Stir occasionally.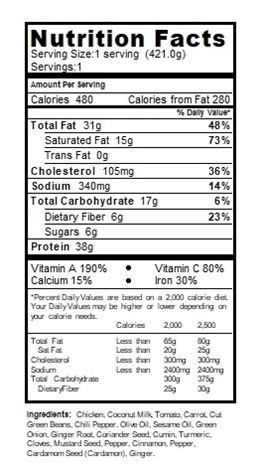 Per serving: 480 kcal, 38g protein, 31grams total fat, 15 grams saturated fat, 17 g carbohydrates, 6 g fiber
High in Vitamin A, C, K, B6, Iron, Riboflavin, Pantothenic acid, Selenium, Manganese
[The recipes are property of the Digestive Nutrition Clinic and have been overseen by our Registered Clinical Dietitian Nutritionist and FODMAP expert. ]