SERVES

6 (SERVING SIZE: 2 PANCAKES (102 grams, 3,6 oz)

PREPARATION

5 MINUTES

COOKING

15 MINUTES
--- INGREDIENTS ---
Pancakes
1 cup (112 grams) quinoa flour
1 cup (240 ml) almond milk
1 medium (118 grams) banana, 7-8" long
1 teaspoon (5ml) pure vanilla extract
1 tablespoon (15ml) 100 % pure maple syrup
1 tablespoon (15ml) cold-pressed coconut oil, melted
2 pastured eggs
2 teaspoons (9,2 grams) gluten-free baking powder
¼ teaspoon (1,5 grams) salt
Coconut oil for cooking
--- INSTRUCTIONS ---
Mix together the quinoa flour, baking powder and salt in a large bowl.
Whisk together almond milk, eggs, maple syrup, vanilla, coconut oil, and the mashed banana.
Add dry ingredients to milk mixture and whisk until moistened.
Heat a non-stick skillet over medium heat.
Melt the coconut oil and moisten a paper towel with it.
Rub skillet with an oiled paper towel.
Scoop 3 tablespoons of batter onto the skillet.
Spread batter into a round shape.
Brown on both sides.
Flip the pancake with a spatula.
Rub the skillet with oil and continue with the rest batter.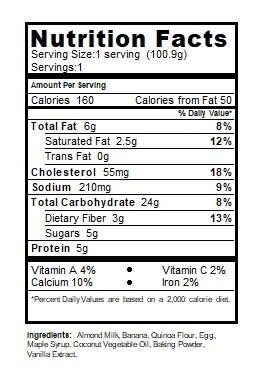 [The recipes are property of the Digestive Nutrition Clinic and have been overseen by our Registered Clinical Dietitian Nutritionist and FODMAP expert. ]