SERVES

16 (SERVING SIZE: 1/2 cup, 120 ml)

PREPARATION

5 MINUTES

COOKING

45 MINUTES
--- INGREDIENTS ---
10 cups (1800 grams) ripe red tomatoes cut in small pieces
3 tablespoons (45 ml) garlic olive oil
¼ cup (12 grams) leeks, the green part only, finely cut.
2 bay leaves
½ cup (30 grams) fresh basil leaves, finely chopped
1 sprig of oregano, the leaves only or ½ teaspoon dry oregano
2 sprigs of parsley
1 sprig of thyme, the leaves only or ½ teaspoon dry oregano
1 teaspoon (5 ml) 100% pure maple syrup
1 teaspoon (6 grams) salt
½ teaspoon (7,5 ml) balsamic vinegar
Freshly ground black pepper
--- INSTRUCTIONS ---
Heat oil in a saucepan over medium heat.
Add bay leaves and leeks and cook for about 4 minutes.
Add diced tomatoes and stir well.
Allow to simmer, uncovered, for about 20 minutes.
Stir in basil, maple syrup, salt, pepper, and herbs.
Continue simmering for about 20 minutes.
Remove bay leaves.
Puree it in a food processor or blender.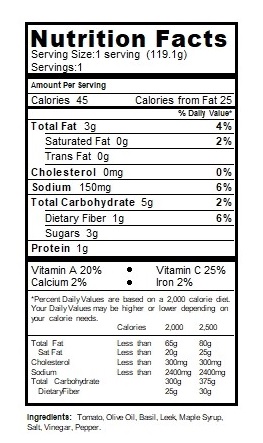 [The recipes are property of the Digestive Nutrition Clinic and have been overseen by our Registered Clinical Dietitian Nutritionist and FODMAP expert. ]