SERVES

5 (SERVING SIZE: 360 grams, 12,7 oz)

PREPARATION

15 MINUTES

COOKING

1 HOUR
--- INGREDIENTS ---
Category: Soup
500 grams ( 17,6 oz) fresh spinach
3 tablespoon (45 ml)olive oil
8 spring onions (green parts only)
1Liter low FODMAP vegetable stock or water (4 1/5 cups)
1 ¼ cup (80 grams) parsley (leaves and fine stalks)
½ cup (120ml) white wine
Salt
Pepper
1 tablespoon freshly squeezed lemon juice
Feta cheese or lactose-free yogurt to garnish
--- INSTRUCTIONS ---
Add the olive oil in a pan over low heat and chopped green parts of the onions with a teaspoon of salt.
Sauté for 1-2 minutes until they become soft but don't change color.
Add the wine and bring the heat up stirring until half the wine evaporates.
Pour in the low FODMAP vegetable stock and bring to a boil
Add the fresh spinach to the liquid and half the parsley.
Heat until they boil and then reduce the heat and allow cooking for 10 minutes.
Stir occasionally to make sure all the leaves are submerged into the liquid.
Add the rest of the parsley at the end and blend everything in the blender until smooth.
Add salt and pepper to taste
Reheat the soup at low heat, squeezing in the lemon juice at the end.
Do not add the lemon juice too early on because then the soup will lose its bright color.
Garnish with crumbled feta or a spoonful of lactose-free yogurt.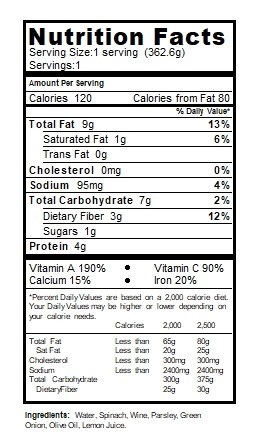 Gluten-free /Vegetarian
High in A, C, K, Folate, Magnesium, Manganese. Provides 3 grams of fiber
[The recipes are property of the Digestive Nutrition Clinic and have been overseen by our Registered Clinical Dietitian Nutritionist and FODMAP expert. ]