SERVINGS

20 (30g each)

PREP TIME

2 min

COOK TIME

12 min
--- Ingredients ---
4 cups (500g) raspberries (fresh or frozen)

1 teaspoon (5ml) vanilla

3 tablespoons (45ml) maple syrup

3 tablespoons (45ml, 42g) chia seeds
--- Instructions ---
Boil the raspberries in a medium sized pot.
Reduce the heat to low and boil for about 5 minutes, stirring frequently.
Mash the raspberries with a potato masher or a fork.
Stir the maple syrup and chia seeds.
Cook the jam on low for about 5-7 minutes until it thickens, stirring frequently.
Remove from heat.
Stir in the vanilla extract.
Let the jam cool.
Pour the jam in a glass jar and store in the refrigerator. The jam will keep in the fridge for up to 2 weeks.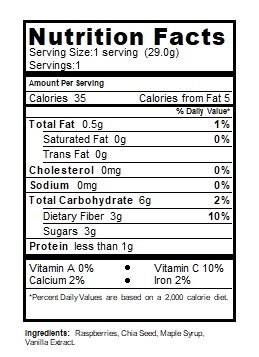 [The recipes are property of the Digestive Nutrition Clinic and have been overseen by our Registered Clinical Dietitian Nutritionist and FODMAP expert. ]