SERVINGS

4

PREP TIME

10 min

COOK TIME

7-10 min
--- Ingredients ---
Salmon
4 pan-fried salmon fillets with crispy skin (170g each, 6 oz each)
2 tablespoons (30ml) olive oil
Salt & pepper
Vinaigrette
10 fresh or frozen raspberries (45g)
1 tablespoon (15ml) lemon juice
1 tablespoon (15ml) raspberry champagne vinegar
2 tablespoons (30ml) extra virgin olive oil
1/2 teaspoon (2.5ml) maple syrup
Pinch of salt to taste
Salad
8 cups salad greens
1 orange cut in wedges
20 blueberries
2 tablespoons almonds
--- Instructions ---
Step 1
Bring the salmon to room temperature a few minutes before cooking.
Dry salmon by pressing it between paper towels.
Remove any excess moisture from the skin by running the back of a knife through the skin.
Dry again the salmon with a paper towel.
Heat a stainless steel or cast iron skillet over medium-high heat. (To get a crisp fish skin the skillet must be hot. To test it, splash a drop of water, if it sizzles the pan is ready.)
Season the fish with salt and pepper.
Oil the fish well and place it, skin-side down, in the pan.
Lower the heat to medium-low.
Press gently on the back of the fillets with a spatula for 10 seconds. (If you're cooking multiple fillets add them to the pan one at a time, so you have time to press them.)
Continue to press occasionally; the fish is ready when it lifts easily.
Cook until an instant thermometer inserted in the center of the fillet registers 130 oF (55 oC)* for medium, about 5-7 minutes total depending on the thickness of the fillet. The salmon skin should be crisp and easy to lift and flip.
Turn the fish and cook for 15 seconds.
Transfer the fish to a serving plate and let it rest for a couple of minutes.
* the safe fish temperature that is recommended by USDA is an internal temperature of 145 oF (62.8 oC). The temperature will continue to rise during rest time achieving the ideal safe temperature.
Step 2
Blend all ingredients for the vinaigrette together until smooth, or whisk all ingredients together until well combined, OR
Shake vigorously all the ingredients in a jar.
Step 3
Toss salad with enough dressing to coat the ingredients.
Divide mixture among four plates and top with 1 salmon fillet.
Drizzle each salmon with more dressing if desired.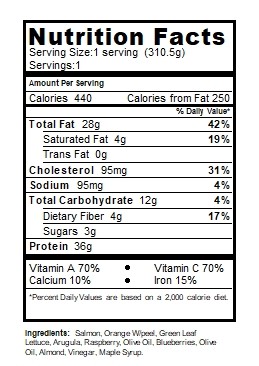 [The recipes are property of the Digestive Nutrition Clinic and have been overseen by our Registered Clinical Dietitian Nutritionist and FODMAP expert.]