SERVINGS

4

PREP TIME

10 min

COOK TIME

40-45 min
--- Ingredients ---
2 tablespoons (15ml) extra virgin olive oil
1 cup (50g, 1.8 oz) leeks, soft green part only, finely chopped
2 tablespoons (12g) ginger, peeled, finely chopped
1kg (35 oz) carrots, peeled, chopped (about 6-7 carrots)
4 cups (500ml) low FODMAP homemade vegetable stock (see below for recipe) or water (use salt & pepper to taste if you are not using stock)
4 tablespoons (30g, 1 oz) low-fat lactose-free yogurt, to serve
Basil leaves, to serve
--- Instructions ---
Heat oil in a saucepan over medium heat.
Add leeks and ginger and reduce heat to medium-low.
Cook for a few minutes, stirring occasionally.
Add carrots and stock to saucepan. Simmer, partially covered, for 35 to 40 minutes or until carrots are very tender. Remove from heat and set aside.
Blend the soup using a food processor or blender until smooth.
Add more water if the consistency needs to be thinned out a bit.
Return soup to saucepan and stir over low heat until warmed through.
Serve the soup with a spoonful of yogurt and garnish with basil leaves.
--- Low FODMAP Vegetable Stock---
- Ingredients -
1 tablespoon (15ml) olive oil
2 cups (100g, 3.6 oz) leeks, green parts only
2 carrots (330g, 11.6 oz)
1 cup (50g, 1.8 oz) spring onions, green parts only
10 sprigs fresh parsley
10 sprigs fresh thyme
2 bay leaves
1 teaspoon salt
2 liters water
- Instructions -
Chop vegetables into small chunks.
Heat oil in a big pot.
Add the vegetables and herbs and cook over high heat for 5 to 10 minutes, stirring frequently.
Add salt and water and bring to a boil. Lower heat.
Simmer, uncovered, for 45 minutes.
Strain and discard vegetables keeping the broth.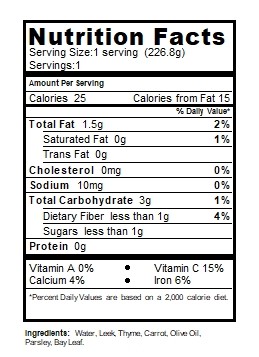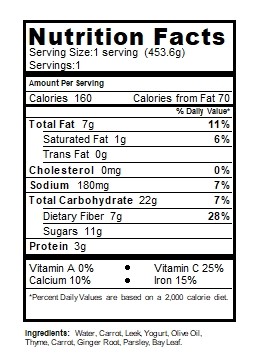 [The recipes are property of the Digestive Nutrition Clinic and have been overseen by our Registered Clinical Dietitian Nutritionist and FODMAP expert.]