SERVINGS

11

PREP TIME

5 min

COOK TIME

35 min
--- Ingredients ---
1 cup (100g) quinoa flakes
½ cup (60g) walnuts
½ cup (70g) sunflower seeds
½ cup (40g) unsweetened coconut shavings
¼ cup (25g) crushed golden flaxseed
¼ cup (35g) macadamia nuts
¼ cup (60g) maple syrup
3 tablespoons (40g) virgin coconut oil
1 teaspoon (4g) vanilla extract
¼ teaspoon sea salt
--- Instructions ---
Preheat oven to 180oC (350oF).
Toss quinoa flakes, walnuts, sunflower seeds, coconut, flaxseed and macadamia nuts on a rimmed baking tray.
Toast in the oven for 10-15 minutes, stirring once or twice until the coconut is golden brown.
Decrease oven temperature to 150oC (300oF).
Place the quinoa flakes mixture into a large mixing bowl.
Mix the maple syrup, coconut oil, vanilla and salt in a separate bowl and then pour over the quinoa mixture until it is uniformly coated.
Spread the mixture onto a rimmed baking tray.
Bake for 20-25 minutes, until it turns golden brown.
Remove from the oven and allow to cool.
The granola can keep in an airtight container for up to three weeks.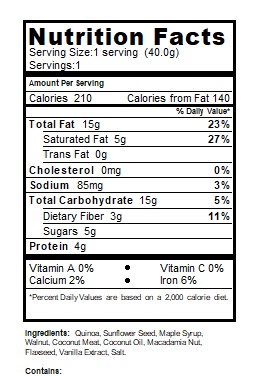 [The recipes are property of the Digestive Nutrition Clinic and have been overseen by our Registered Clinical Dietitian Nutritionist and FODMAP expert.]