SERVINGS

8 (390g each)

PREP TIME

20 min

COOK TIME

80 min
--- Ingredients ---
Meat Sauce
500g (17.6oz) ground lean beef or pork
2 medium tomatoes crushed to puree (250g or 8.8oz)
1 cup (50g or 1.8oz) spring onions, finely chopped, green parts only
1 cup (50g or 1.8oz) leeks, finely chopped, green parts only
4 fresh bay leaves
½ cup dry white wine (120ml)
1 teaspoon (2.6g) ground cinnamon
1 teaspoon (2.6g) ground cloves
½ teaspoon (1g) freshly grated black pepper
3 cups (150g or 5.3oz) of parsley, finely chopped
Béchamel Sauce
1 liter of lactose-free milk (4.2 cups)
120g (4.2oz) potato starch
4 (56g) tablespoons olive oil
2 pastured eggs
2 teaspoons (4.4g) nutmeg
2 teaspoons (11g) salt
Pasta
400g (17.6oz) gluten free, long ziti pasta (preferably whole grain quinoa pasta) *
100g (3.5oz) low-fat cheese, grated (kasseri or parmesan)
* for a grain free option choose quinoa pasta
--- Instructions ---
Step 1 – Meat Sauce
Place a pan over medium heat.
Add the ground meat and cook for a few minutes until all liquid evaporates.
Add the spring onions and leeks and cook for a few minutes more.
Add the freshly made tomato puree and cook until the liquid evaporates.
Add the bay leaves.
Add the wine and allow the alcohol to evaporate.
Add the freshly ground black pepper, nutmeg and cinnamon.
Add finely chopped parsley.
Remove from heat.
Discard the bay leaves and set aside until needed.
Step 2 – Béchamel Sauce
Heat the olive oil in a pot over medium heat.
Add the flour.
Stir continuously with a hand whisk and sauté the flour.
Scrape down the sides to incorporate any excess flour.
Add the milk, a drizzle at a time, whisking continuously so that no lumps form in the mixture.
Avoid boiling. Potato starch can lose its thickening power if brought to a boil for too long.
Simmer the sauce at no more than 80°C (176°F), always monitoring the heat.
Continue to stir until the sauce becomes smooth and creamy.
Remove from the heat and add salt, pepper and nutmeg.
Add the 2 eggs and whisk very quickly to incorporate.
Set aside until needed.
Step 3 - Pasta
Boil the pasta in salted water for 2 minutes less than what is indicated in the box's instructions.
Drain the pasta.
Mix with the cheese.
Step 4 - Assemble
Preheat the oven to 180°C (350°F).
Brush a baking pan (3x9x3 inch or 33x23x7 cm) with olive oil.
Mix the meat sauce with one third of the béchamel sauce.
Spread the pasta in the baking pan.
Add the meat sauce.
Top with the remaining béchamel sauce.
Bake for 30 to 40 minutes or until the béchamel turns golden brown.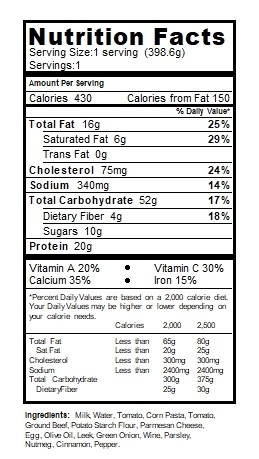 [The recipes are property of the Digestive Nutrition Clinic and have been overseen by our Registered Clinical Dietitian Nutritionist and FODMAP expert.]