SERVINGS

6

PREP TIME

15 min

COOK TIME

45-55 min
--- Ingredients ---
4 eggs
3 ⅓ cups (100g) baby spinach leaves
6 cups (500g) oyster mushrooms
1 teaspoon (5ml) extra virgin olive oil
2 ½ cups (425g) cooked quinoa
1 cup (100g) Parmesan cheese
1 cup (240ml) lactose-free milk
⅔ cup (100g) feta cheese
150g oven roasted red bell peppers, chopped ⃰
Salt and freshly ground black pepper
--- Instructions ---
Preheat the oven to 180 °C (350°F).
Sauté the mushrooms in a non-stick skillet with 1 teaspoon of olive oil until all the moisture evaporates (5 to 7 minutes) and then season with salt.
Coat well a pie dish (9 inches or 23 cm) with olive oil.
Whisk together the eggs, milk and feta cheese.
Add the quinoa and roasted red peppers.
Add the mushroom and spinach to the pie dish and cover with the egg mixture.
Top with Parmesan cheese.
Season with salt and pepper.
Bake for 40 to 45 minutes until the top is golden brown.
*How to make roasted red bell peppers
Preheat your oven to 230 °C (450 °F).
Cut them in half lengthwise.
Remove the stem and seeds.
Cover baking sheet with parchment paper.
Roast for about 25 minutes or until the skin is wrinkled.
Cover and allow them to cool.
Peel off the skin.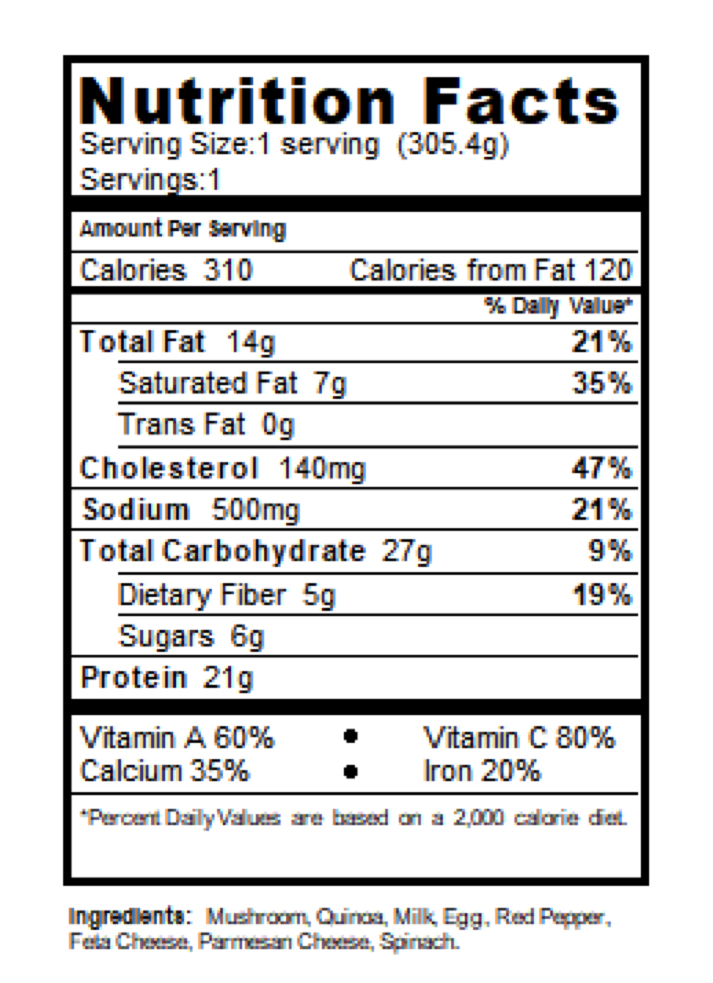 Contains 5 grams fiber, 21 grams of protein. High in vitamin A, vitamin C, calcium, iron, vitamin K, thiamin, riboflavin, niacin, B6, folate, vitamin B12, pantothenic acid, phosphorous, magnesium.
The recipes are property of the Digestive Nutrition Clinic and have been overseen by our Registered Clinical Dietitian Nutritionist and FODMAP expert.