SERVINGS

4 (213g, 7.5oz each)

PREP TIME

5 min

COOK TIME

(for quinoa)

15 min
--- Ingredients ---
Raspberry Vinaigrette
4 tablespoons (60ml) extra virgin olive oil
2 tablespoons (30ml) raspberry champagne vinegar or white wine vinegar
4 fresh or frozen raspberries
2 teaspoons (10ml) maple syrup
1 teaspoon (5g) Dijon mustard
Pinch of salt to taste
Salad
1 cup (185g) cooked quinoa
8 cups (160g) baby arugula
8 tablespoons raspberry vinaigrette
1 cup (150g) feta cheese, crumbled
20 strawberries (240g), sliced
--- Instructions ---
Step 1 - Raspberry Vinaigrette
Shake all the ingredients in a jar vigorously until well combined.
Step 2 - Salad
Toss the salad with enough dressing to coat all the ingredients.
Divide the mixture among four plates and top with feta cheese.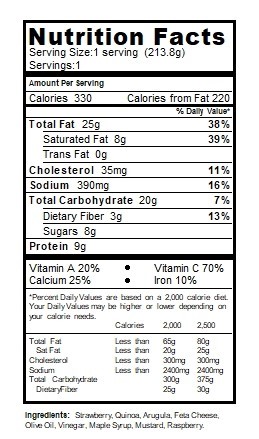 High in vitamins A, C, K, Folate, Phosphorous, Riboflavin, Manganese and Calcium.
The recipes are property of the Digestive Nutrition Clinic and have been overseen by our Registered Clinical Dietitian Nutritionist and FODMAP expert.