SERVINGS

4 (307g, 10.8 oz each)

PREP TIME

15 min

COOK TIME

(for chickpeas)

35 min
--- Ingredients ---
Roasted Chickpeas
1 cup (152g) chickpeas in carton packaging
2 tablespoons (30ml) olive oil
½ teaspoon (3g) kosher salt
Thai orange dressing with olive oil
¼ cup (60ml) extra virgin olive oil
¼ cup (60ml) orange juice
1 tablespoon (6g) fresh ginger, finely chopped
1 tablespoon (15ml) tamari sauce
1 tablespoon (15ml) 100% pure maple syrup
¼ cup (12g) fresh basil
¼ cup (12g) fresh cilantro
Salad
4 medium (480g) carrots
1 large (260g) zucchini
1 large (320g) yellow squash
½ cup (25g) cilantro leaves
¼ cup (12g) basil leaves
1 cup roasted chickpeas
--- Instructions ---
Step 1 - Chickpeas
Preheat the oven to 205oC/ 400ºF.
Drain and rinse the chickpeas well.
Pat them dry with a paper towel.
Spread them on a parchment-lined, rimmed baking sheet .
Toss the chickpeas with oil and salt.
Roast the chickpeas for 30-35 minutes until they are golden in color and crispy on the outside.
Step 2 - Thai orange dressing
Blend all the ingredients together in a blender until smooth.
Step 3 - Salad
Slice your vegetables using a spiralizer. (If you don't have a spiralizer, use a vegetable peeler to create long ribbons).
Add the vegetables to a mixing bowl.
Toss the vegetables with the dressing.
Sprinkle the salad with chopped cilantro and basil.
Serve with roasted chickpeas on top.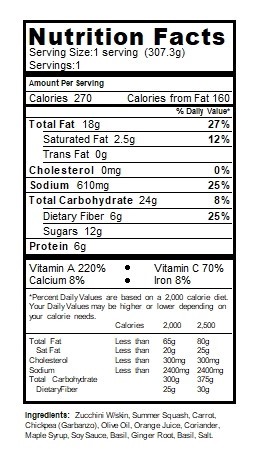 High in Vitamins A, C, K, Riboflavin, Folate, B6, Manganese, Potassium.
The recipes are property of the Digestive Nutrition Clinic and have been overseen by our Registered Clinical Dietitian Nutritionist and FODMAP expert.