SERVES

8 (SERVING SIZE: 2 CREPES (246 grams, 8,7 oz)

PREPARATION

10 MINUTES

COOKING

55 MINUTES
--- INGREDIENTS ---
Quinoa Crepes
2 cups (224 grams) quinoa flour
2 cups (480 ml) lactose-free, low-fat milk
4 tablespoons (60 ml) extra virgin olive oil
4 pastured eggs
Olive oil for cooking
Baked Spinach -Stuffed Quinoa crepes
16 quinoa crepes
2 cups low fodmap marinara sauce
1 pastured egg, beaten
4 tablespoons (10 grams) fresh basil finely chopped
4 cups (120 grams) fresh baby spinach,
1½ cups (200 grams) feta cheese
1 cup (100 grams) parmesan cheese
--- INSTRUCTIONS ---
Step 1
Crepes (make 16 crepes)
Whisk together milk, eggs, and oil.
Add quinoa flour to milk mixture and whisk until smooth.
Heat a non-stick skillet over medium heat.
Moisten a paper towel with oil.
Rub skillet with an oiled paper towel.
Scoop ¼ cup batter onto the skillet.
Tilt the pan with a circular motion so that the batter coats the surface evenly.
Cook for about 2 minutes, until the bottom is light brown. Loosen with a spatula, turn and cook the other side.
Rub the skillet with oil and continue with the rest batter.
Step 2
Coat with olive oil a 33 x 23 cm / 13 x 9-inch baking dish.
Preheat oven to 204,4°C/ 400°F.
Mix spinach, basil, eggs, ½ parmesan cheese, and feta cheese, salt, and pepper.
Spread half marinara sauce on the bottom of the baking dish.
Spoon 4 tablespoons of the cheese spinach mixture onto one end of the crepe, and then roll it up.
Transfer to the baking dish, continuing with all crepes.
Place the remaining marinara sauce on top of roll-up crepes.
Cover with remaining parmesan cheese.
Bake for 25 minutes and allow cooling for 10 minutes before serving.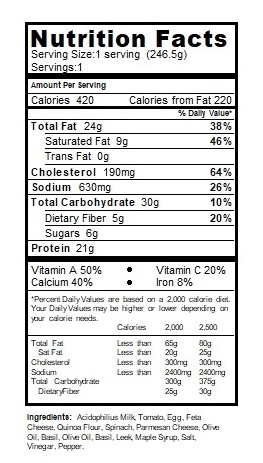 High in Vitamins A, C, K, Riboflavin, Phosphorous, Calcium
[The recipes are property of the Digestive Nutrition Clinic and have been overseen by our Registered Clinical Dietitian Nutritionist and FODMAP expert. ]