SERVES

6 (SERVING SIZE: 276 grams, 9,7 oz)

PREPARATION

30 MINUTES

COOKING

40 MINUTES
--- INGREDIENTS ---
Category: Vegetables
2 medium (450 grams) Italian eggplants cut lengthwise into (0, 6 cm /1/4-inch thick) - 10 slices.
salt and fresh black pepper, to taste
1 1/2 cups low FODMAP marinara sauce
2 pastured eggs, beaten
2 cups (200 grams) grated parmesan cheese, plus more for serving
4 tablespoons (6 gram) fresh basil finely chopped
4 cups (120 grams) fresh baby spinach,
2 cups (226 grams) lactose-free fresh mozzarella
2 tablespoons (30 ml) extra virgin olive oil
--- INSTRUCTIONS ---
Preheat oven to 204, 4° C/ 400° F degrees.
Cut the ends off eggplant and then slice into (0, 6 cm /1/4-inch,) thick slices. (Use mandolin)
Sprinkle the eggplant with salt and set aside for about 10 to 15 minutes.
Pat dry.
Coat with olive oil a (33 x 23 cm / 13 x 9-inch) baking dish.
Line two baking sheets with parchment paper.
Place eggplants and drizzle with olive oil.
Bake for 12–15 minutes, remove and allow cooling.
Mix spinach, basil, eggs, ½ parmesan cheese and 1/2 mozzarella cheese, salt and pepper.
Spread half marinara sauce on the bottom of a 13 x 9-inch baking dish.
Spoon 4 tablespoon of the cheese spinach mixture onto one end of the sliced eggplant, and then roll it up.
Transfer to a baking dish, continuing with all eggplant slices.
Place the remaining marinara sauce on top of roll-up eggplants.
Cover with remaining cheese.
Bake for 25 minutes and allow cooling for 10 minutes before serving.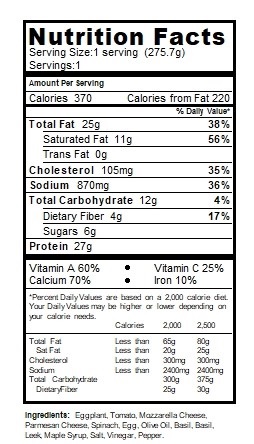 Gluten-free /Vegetarian
High in Vitamins A, C, K, Calcium, phosphorous, B12, Folate, Zinc, Selenium, Manganese, Riboflavin
[The recipes are property of the Digestive Nutrition Clinic and have been overseen by our Registered Clinical Dietitian Nutritionist and FODMAP expert. ]