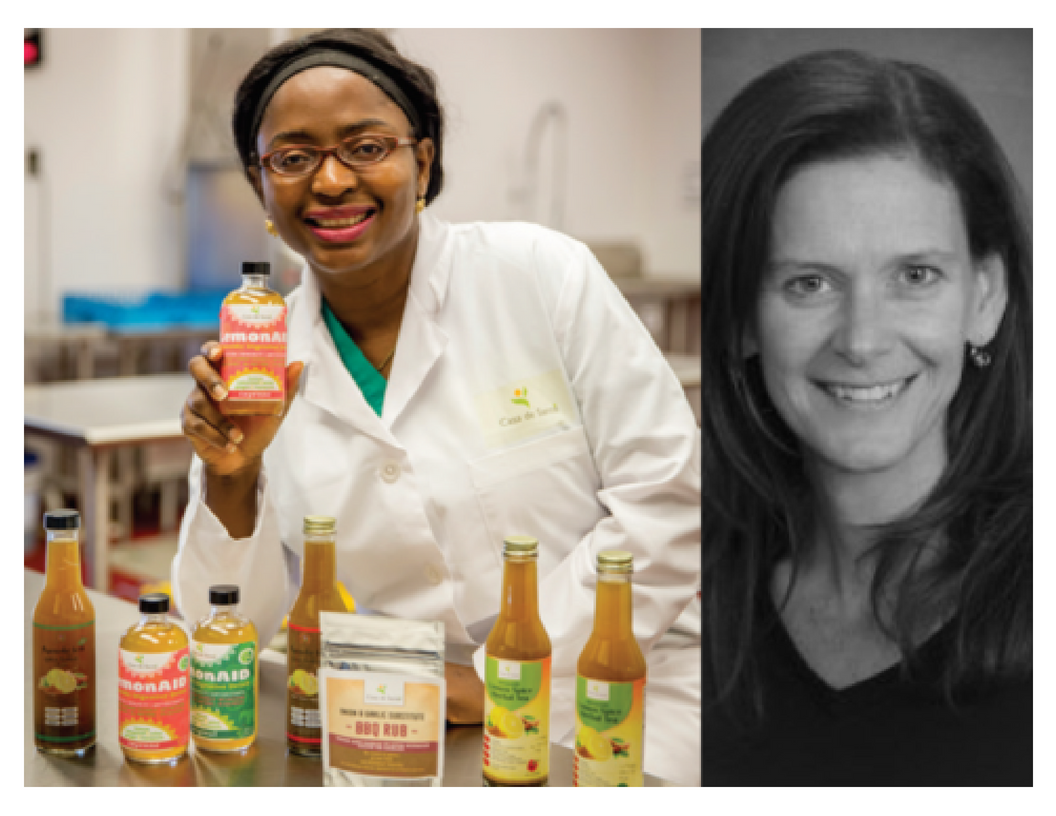 We live on the other side of the pond, a region where FODMAPs and the low FODMAP product industry are just starting to get noticed. However, everybody recognizes the need for low FODMAP products in order to cater to the 10 to 20 percent of the population suffering from IBS. In fact, recent reports have been projecting the FODMAP market to explode in the next ten years.
One of the companies making its mark in creating low FODMAP products is Casa de Sante located in Pennsylvania, USA. Created in 2017, Casa de Sante reported a six-figure revenue within its first year and was listed in FORBES magazine as one of the Emerging Women-Led Food and Beverage Companies Set to Make a Difference.
The founder and CEO of Casa de Sante is Onyx Adegbola, MD, PhD, a physician scientist, member of Mensa and former pharmaceutical executive. Dr. Adegbola has a PhD from Johns Hopkins University School of Medicine and completed her medical training at Columbia University and the University of Pennsylvania.
Casa de Sante produces and sells low FODMAP products that are certified by FODMAP Friendly. They pride themselves in using the best ingredients with no additives, preservatives or other chemicals. Their products are gluten and dairy-free, contain no garlic or onion, and include a large selection of spice mixes, stocks, salsas, granola and sauces. They also provide useful information and tips about FODMAPs and gut health and produce an online newspaper, the FODMAP Daily, which recently featured our blog post 20 Tips for a Happy Belly.

We were very excited when Onyx offered to answer a few questions for our blog. Here they are!
Digestive Nutrition Clinic (DNC): How did you get involved with FODMAPs and creating low FODMAP foods?
Casa de Sante: As a physician, I have always been interested in health and wellness. So many causes of illness are out of control, but we can control the food we eat. A sibling of mine was diagnosed with irritable bowel syndrome and found relief from the low FODMAP diet. Unfortunately following the diet is a challenge because it was so difficult and time consuming to find suitable foods in the store. I was inspired to start a healthy low FODMAP brand to take the stress out of eating and shopping for the 30- 45 million Americans with IBS.
DNC: Which products are you most proud of and which are customer favorites?
Casa de Sante: I love all our products. I think they are all flavorful and natural products we enjoy eating in our family. In terms of customer favorites, I would say the stock, spices and salsa.
DNC: What is the process of getting certified by FODMAP friendly?
Casa de Sante: This is Tim Mottin's description in Stephanie Clairmont's blog post on The FODMAP Friendly Certification Program: "Manufacturers fill out a preliminary application form which is assessed by the FODMAP Friendly Program. If the initial application appears to be consistent with low FODMAP guidelines, a formal application is made. Samples of the products are then sent for analysis to an approved independent laboratory, where comprehensive testing is undergone, to measure the FODMAP content of the product. After testing is complete, quantitative data is compiled regarding the sugar totals, and it is 'approved' or 'not approved', depending on whether the product falls within the acceptable FODMAP thresholds. If the product is successful, licensing is granted for an agreed term, and the product receives the FODMAP Friendly logo, which is displayed prominently for consumers on the packaging."
DNC: What can we expect from Casa de Sante in the next few years?
Casa de Sante: We intend to launch more low FODMAP Certified products so as to give consumers with food sensitivities more choices to eat with confidence!
DNC: Do you have plans for your products to reach Europe any time soon?
Casa de Sante: We are an online company at the moment and we ship internationally, including to Europe.
_____________________________________
Thank you, Onyx, for taking the time to answer these questions. We will definitely be looking forward to all the new and exciting gut-friendly products you have in store for all of us.